Become a member of our family to inspire and get inspired by professional experts!
About our Full Stack team
The Full Stack team takes care of the planning, development and maintenance of web services or solutions. Team members work with members of other development teams or develop the entire solution themselves. Because our company offers services to different clients, the work of developers is very diverse and with that team members gain knowledge from different industries. In development, we follow the guidelines of agile methods of software development.
Which technologies we use?
We use Kotlin and Swift programming languages. In addition, we use other tools such as Realm and Firebase. We use Jira for scheduling tasks and recording time, and Confluence for documentation.
knowledge of Kotlin or Swift,
experience in the mobile application development,
experience with libraries for working with Bluetooth Low Energy (BLE) technology
desire to work in a team,
assistance to other team members,
desire for personal progress and
We offer work in a team of young developers who are eager to progress and strive to develop quality software solutions for customers around the world, work on interesting projects, a relaxed work environment with the possibility of personal and career growth in the company, competitive pay, office work in the center of Slovenske Konjice or from home, flexible working hours and many other benefits, such as participation in conferences abroad, teambuildings or weekend team vacations in remote Slovenian destinations.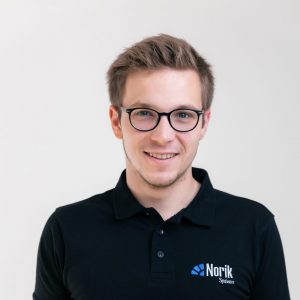 There are no limits to what a small but committed team can achieve at Norik Systems! The company gave me my first ever job and over the years, with the help of mentoring and an excellent team, I learned a lot, not only professionally but also personally. Today, I can say that thanks to the company, I am no longer a student who just watches and learns, but a person who works on various projects and is happy to pass on the learned knowledge.
Um sich für eine Stelle zu bewerben,
füllen Sie
bitte das Kontaktformular aus und senden Ihren Lebenslauf mit.
Liptovska 27a
3210 Slovenske Konjice
Slowenien