Junior Full
Stack Developer
Become a member of our family to inspire and get inspired by
professional experts!
About our
Full Stack team
The Full Stack team takes care of the planning, development and maintenance of web services or solutions. Team members work with members of other development teams or develop the entire solution themselves. Because our company offers services to different clients, the work of developers is very diverse and with that team members gain knowledge from different industries. In development, we follow the guidelines of agile methods of software development.
Which
technologies
we use?
Our solutions use technologies such as Node.js (specifically NestJS), Angular, React, React Native, Postgres, Redis, Minio, Docker and Firebase. We use Jira for scheduling tasks and recording time, and Confluence for documentation.
A desire to learn about new technologies, good communication skills and a desire for personal and career growth in the company.
We offer work in a team of young developers who are eager to progress and strive to develop quality software solutions for customers around the world, work on interesting projects, a relaxed work environment with the possibility of personal and career growth in the company, competitive pay, office work in the center of Slovenske Konjice or from home, flexible working hours and many other benefits, such as participation in conferences abroad, teambuildings or weekend team vacations in remote Slovenian destinations.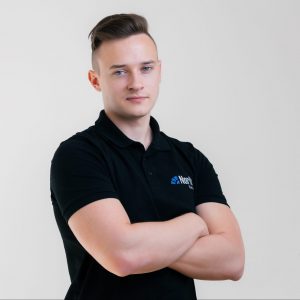 I have started working at Norik Systems as a student and learned a great set of skills ranging from producing full-stack web applications to learning how to work in a team of talented and ambitious developers
Um sich für eine Stelle zu bewerben,
füllen Sie
bitte das Kontaktformular aus und senden Ihren Lebenslauf mit.
Liptovska 27a
3210 Slovenske Konjice
Slowenien